RECORDERBOPPERS STARTERS pack was first published in 1988. In 1990 Simon & Schuster commissioned David Moses to add new material at different levels and published four packs entitled GET SET, STARTERS, STARTERS TOO and WELL AWAY, each containing printed material and eight cassettes. Some years later Tinderbox Music took back control of publication and changed from cassettes to CDs, combining the two STARTERS packs and adding new material to WELL AWAY to smoothe the transition between the two levels. A growing awareness of spectacular results achieved by Susuki trained teachers working with young recorder players resulted in a rewrite of the STARTERS book and the addition of a second CD's worth of games and exercises focusing on basic techniques and the production of a 'beautiful' sound. STARTERS PLUS.
Now technology has moved on again with computer CD drives and stand alone players becoming increasingly rare. In future RECORDERBOPPERS will only be available to download with the book and printed music in pdf format and the audio material as mp3s. So no more damaged or lost CDs, no more photocopied music sheets to hand out to pupils. If pupils want to practice at home, email them or their parents the files they need to practice. No more production, printing, packaging and posting costs either so the downloaded packs will be much cheaper.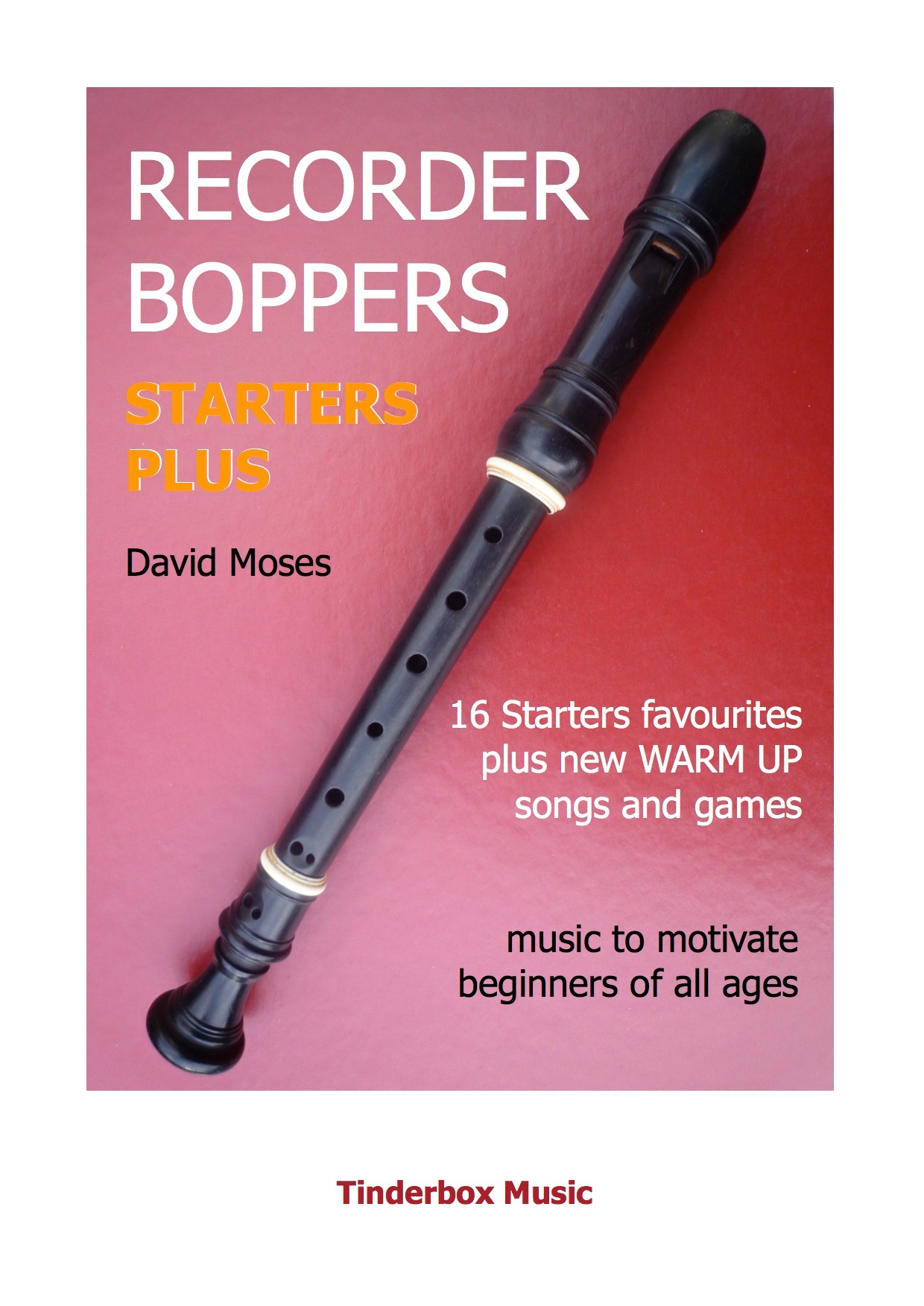 Inspired by the need to teach a 'lively' class of primary school children who were not interested in any of the recorder teaching material available at the time, the idea of simple repetitive exercises accompanied by backing tapes which sounded like music they might hear on the radio (it was the 1980s) proved to be a solution.
One reviewer wrote, "this is not kids music, but kids love it".
To quote from a review of 80 years of recorder teaching material printed in The Recorder Magazine, "The person who made use of (backing) tapes par excellence was of course David Moses with RECORDERBOPPERS, a revolutionary approach which has gained a loyal following. The backing tracks are an integral part of the music and repetitive exercises are woven into the pieces which children love to perform".
STARTERS PLUS contains 17 Warm Up pieces focusing on aspects of basic technique (breath, tongue, finger co-ordination, tone, articulation etc.) and 16 Performance pieces with between 1 and 4 notes (C A G E). Each performance piece has audio versions with and without the recorder part. There are suggestions for less experienced teachers about ways in which each piece might be used and how to approach specific technical aspects of recorder playing and music making. Each Performance Piece has a simplified part for the recorder players which can either be printed off or displayed on an overhead screen.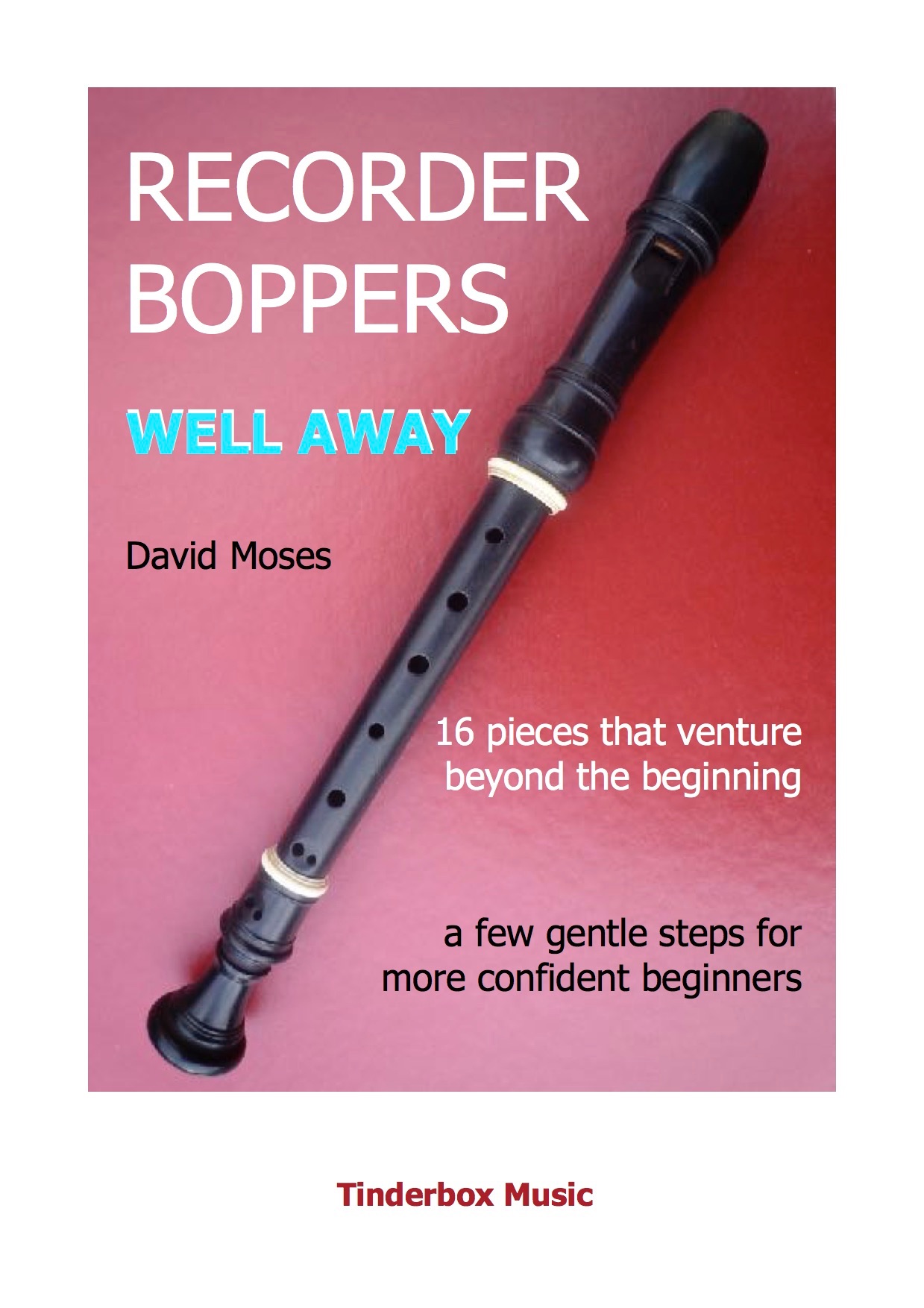 WELL AWAY
This new edition of WELL AWAY makes a smoother transition from the 16 Performance pieces in the STARTERS PLUS pack. Three of the additional new pieces are restricted to the four familiar notes from STARTERS PLUS while extending technical and musical skills. The rate of progress is deliberately gentle for those who need lots of practice with an even wider range of musical styles to hold the interest of those who can progress more quickly.
Many instrumental teaching methods assume that teachers will be able to explain the rudiments of music theory to their pupils as they arise in new pieces, WELL AWAY like STARTERS PLUS assumes only that teachers with a degree of natural musical aptitude can learn the correct name for musical experiences as they occur in the pieces. As for the experience of recorder playing, hints on how to play and problems which might arise will provide teachers with the necessary information to ensure their pupils build a firm foundation for their future music making.